Features
Schedule and Auto Republish Your Content
Record as much content as you want, schedule and automate republish it on any day you want, at any time in order to save time and reach your target audience.
Social Share and Embedding
Share your content on multiple social media.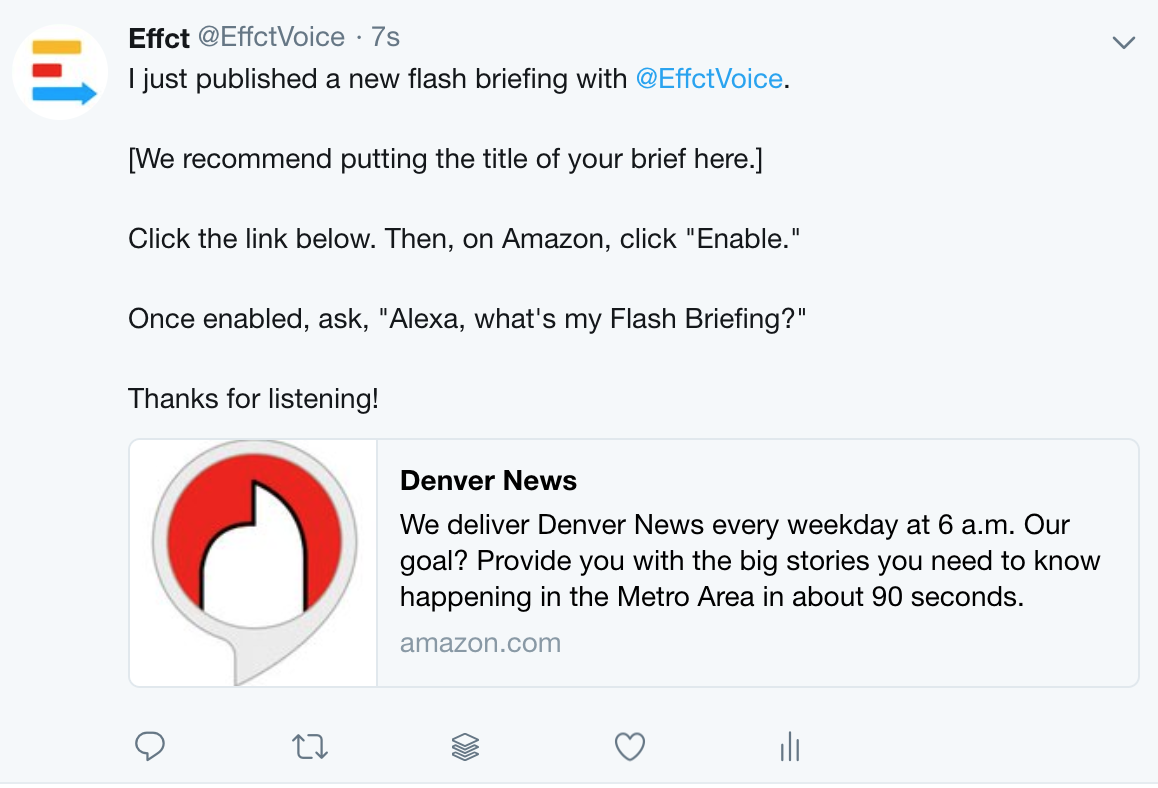 Grow Your Audience with Custom Page
Use your custom page to grow your email list by finding followers of your Alexa skill and sync your audience email list with Mailchimp.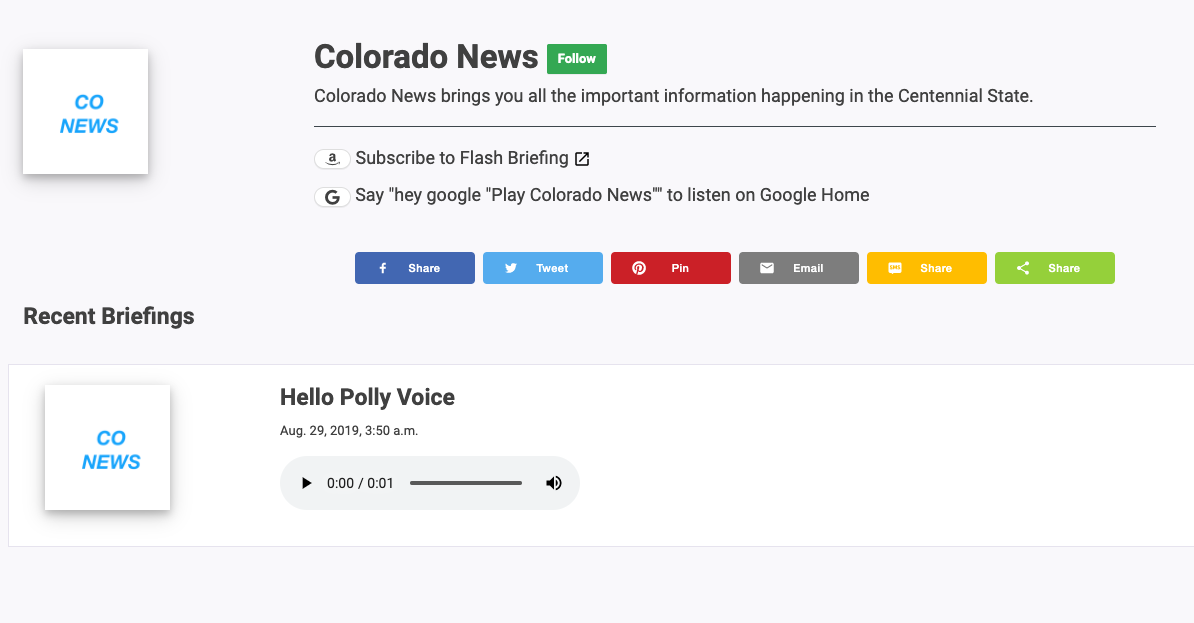 Team Management
Running audio content with a team? Allocate specific roles to users such as Admin, Editor and Author.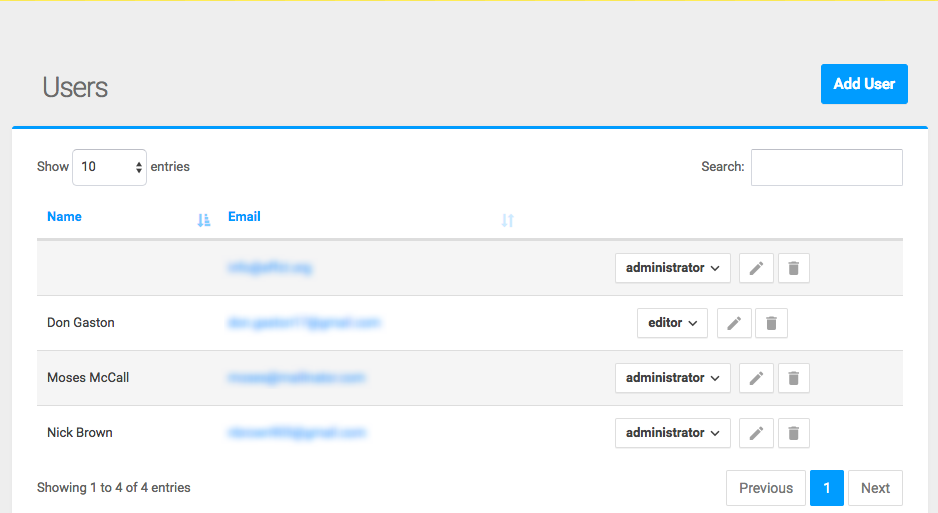 FAQ
Why buy from you? What makes you so special?
With 700 users and growing, we are experienced in creating and growing Amazon Alexa Flash Briefings. In 2018, almost 8,000 briefings were published with Effct.co. We are the only firm dedicated to helping you start and grow your skill!
Who are you guys, anyway?
Co-founders Nick Brown and Moses McCall are passionate about media, voice and technology. Brown is an experienced digital marketer and McCall is a former NASA software engineer.
What results will I actually get from this?
Check out our case studies. We've seen users grow their listenership 25% simply by putting their content on Alexa. We've also seen users go from 0-2400 users in just one month.
Are you guys going to steal my credit card and run away?
No. We're both trustworthy users. We've processed hundreds of payments. And as an added bonus, we use secure Stripe servers to hold your credit card information.
How much does it cost?
Our Premium plan is $25 per month or $250 per year. Our Business plan is $80/month or $825 per year. Our Enterprise plan is $150 month or $1,500 per year. Please refer to our pricing section for more information.
Are there any long term contracts?
Yes, we offer annual versions of all of our products.
How do I present this to my team?
We recommend showing them this website, and explaining how much your company can benefit from Effct.co.
What does it integrate with?
In addition to integrating with the Amazon API, we also integrate our social share feature with Twitter, Facebook and LinkedIn. Our Embed feature works on any website.
What is a Flash Briefing Skill?
A Flash Briefing is a short piece of content that publishes onto Amazon Alexa. The best practice is to keep the briefing about 1-3 minutes. Another best practice is to publish daily.
How do listeners find my skill?
They can search for your skill on Amazon.com. When they find it, they click "Enable," and voila, it is now on all of their Alexa devices.
How do people listen to my Flash Briefing?
Once they enable they your skill, they simply ask Alexa, "What's my flash briefing?" Or "What's in the news?"
Do you offer an affiliate progam?
Yes, we offer on Affiliate program. Once you sign up for a Paid plan, we send you a link to sign up for the affiliate program. We give you an awesome 20% of each sale. That can earn you some serious money!
How does Effct voice help with growing my audience?
First, by signing up with Effct you are taking advantage of Alexa, which is a new frontier. Secondly, we inserted additional tools to spread the word of your publish content via Facebook, Twitter, Linkedin. Third, we provide you guides on how to grow your brief. And with our paid plans you can connect with others on best practices.
How can I take advantage of Amazon's Alexa benefits to earn prizes and perks?
Each month, Amazon offers free goods for publishing skills. Our Facebook community regularly updates each other about these perks.
I don't own an Alexa, how can I listen to my skill?
Alexa offers a mobile app where you can interact with Alexa.
I lost my password. How do I reset my password?
At the top of the hope page, click the forget password button. Submit your email address. You will receive a change password email and follow the steps provided.
I lost my login e-mail address. How can I find it?
Search your e-mail for a message from info@effct.co called "Welcome to Effct." Whatever address that is sent to is your address.